Equestrian Vaulting | La Polo
---
---
Explore the world of vaulting with Lauren Vanlerberghe, Sheena Bendixen, Megan Benjamin, and Sarah Willock.
Vaulting is daring, graceful and glamorous. Featured here are spectacular women
vaulters, whose manoeuvres are performed with precision, and on a cantering horse. These athletes have spent years
of dedication and practice for their sport.


Lauren Vanlerberghe

The nine-time Belgian championship vaulter has been pursuing vaulting for 12 years. She began her journey with
gymnastics, as a child, and competed in all-around gymnastics and acrobatics. She found her passion for vaulting,
when around 11, she discovered vaulting by seeing the horse show "Apassionata".
She feels the seamless combination of two of her devotions–gymnastics and horses–has helped her fall in love with
vaulting. As an aspiring vaulter, Vanlerberghe's role model was Joanne Eccles.
On honing her skills and perfecting her moves, she says: "I was mostly a gymnast and needed to go more with the flow
of the horse. You can't do it all on technique and muscles." By the time she was 14, she earned the 13th position at
the Europeans in Le Mans, her first successful level 4.
There are acrobatic moves like the mill, the scissors, flank, or the flag, that are to be performed on the cantering
horse, and they can be challenging. "The second part of the flank, the swing from inside, is a challenging one,"
says Vanlerberghe. "I need to keep working on a good flow in my routine between the static exercises."
On her journey, she mentions her companion Strawinski's contribution has been fundamental. "My horse Strawinski has
been my most integral part. He passed away last year due to colic. For 10 years, he was my best buddy in vaulting,
and everything around," she says. "I'm thankful for all that we did together."
To aspiring vaulters, she suggests: "Have fun! Just love what you do, and do what you love!"

Image Source: Lauren Vanlerberghe


Image Source: Lauren Vanlerberghe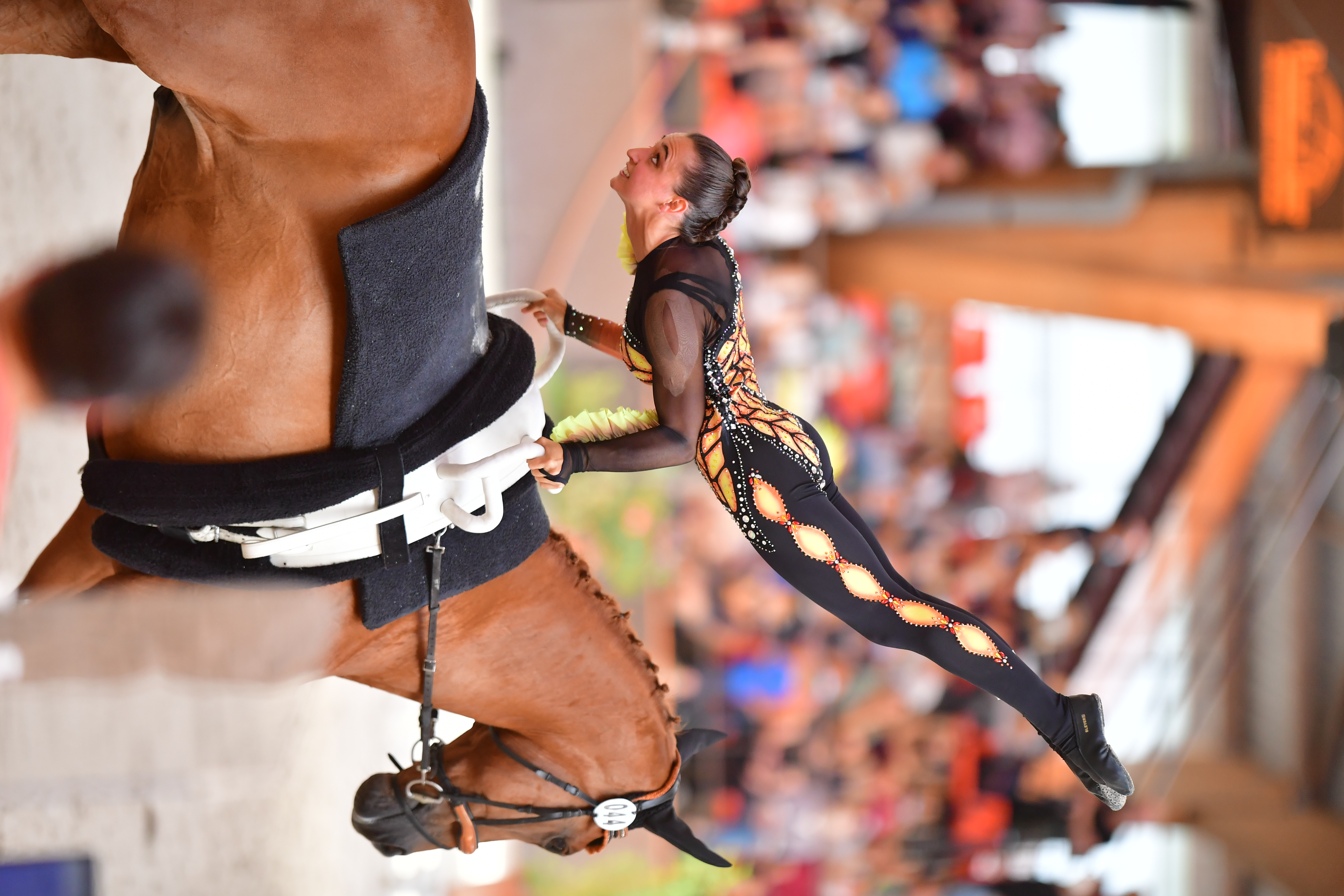 Image source: Wilfrid chan

Sheena Bendixen
Danish vaulter Sheena Bendixen has been pursuing vaulting since she was nine years. She started riding dressage at
the little age of seven years and jumping at eight. "I thought it was the coolest thing, the combination of being a
gymnast on the horse." Bendixen mentions her role model Rikke Laumann Nielsen assisted her through all her success,
and adversities.
Her passion for vaulting coursed deep in her blood as she invested her time and money. "It is now that it begins to
be rewarded. It is important that the road up there
should be fun," she says.
Sheena is hopeful as she prepares for the world championship in Herning. "I hope I can show a completely different
Sheena, with more dance and expression."
She owes her success to many people, like, her coach, Julie Fog Møller, who owns the horse, Ramstein, who seeks to
ride and take care of him on a daily basis, and so on. "I have my psychologist with whom I talk a lot about my
thoughts, and keep holding on to what I can and must believe in myself. I have Rikke Laumann Nielsen, who keeps an
eye on me and my training program that I do six times a week. Then, of course, I have the world's best horse,
Klintholms Ramstein, who I cannot do without either. We take good care of him, he is eighteen years' old, and has
been with us since he was seven. I have a very special relationship with Ramstein. I can always count on him," says
Bendixen.
Bendixen mentions she is struggling on honing exercises. "I'm not the agile type. It would be nice if I was agile,
that part I'm still working on,"
Her advice to young vaulters is to never give up and always "fight for your dreams". "Most important of all, always
believe in yourself and shut all the negative comments away from yourself. Always see the positive things and
remember to be thankful for making mistakes, these are the ones you learn from. So, the more mistakes you make, the
more you learn," says Bendixen.

Meghan Benjamin
She is a former equestrian vaulter, with a string of accolades attached to her name. She was the 2006 World
Equestrian Games (WEG) Women's Vaulting Champion, WEG Team Silver medalist, 2010, World Championships Team Bronze
medalist, and a three-time national champion.
Meghan took up the sport as a young girl, but had to take some time off when she enrolled at the prestigious Cornell
University for her undergraduate studies. She plunged back into the sport when she learned about the 2010 edition of
WEG. It was then that she began putting together her plan for preparation and training, while simultaneously
finishing up her senior year at university.
She had to work around a number of logistical shortcomings in order to prepare for the championships, but that
didn't dampen her spirits. She had to find a new horse for training as her previous one had been retired. She also
had to find a new lunger to train with (in Equestrian vaulting, the lunger controls the horse's performance from the
centre of the ring, and consequently a vaulter's performance as well). Apart from that, she also had to connect with
her personal trainer who lived in California, thousands of miles from where she lived, in New York through virtual
modes. It took some effort on her part but in time she was able to sort out these issues and train well.
After her illustrious career in the sport, she retired in 2012. Staying in touch with her passion, she thereafter
went to pursue a successful career as an editor for Equestrian Vaulting magazine.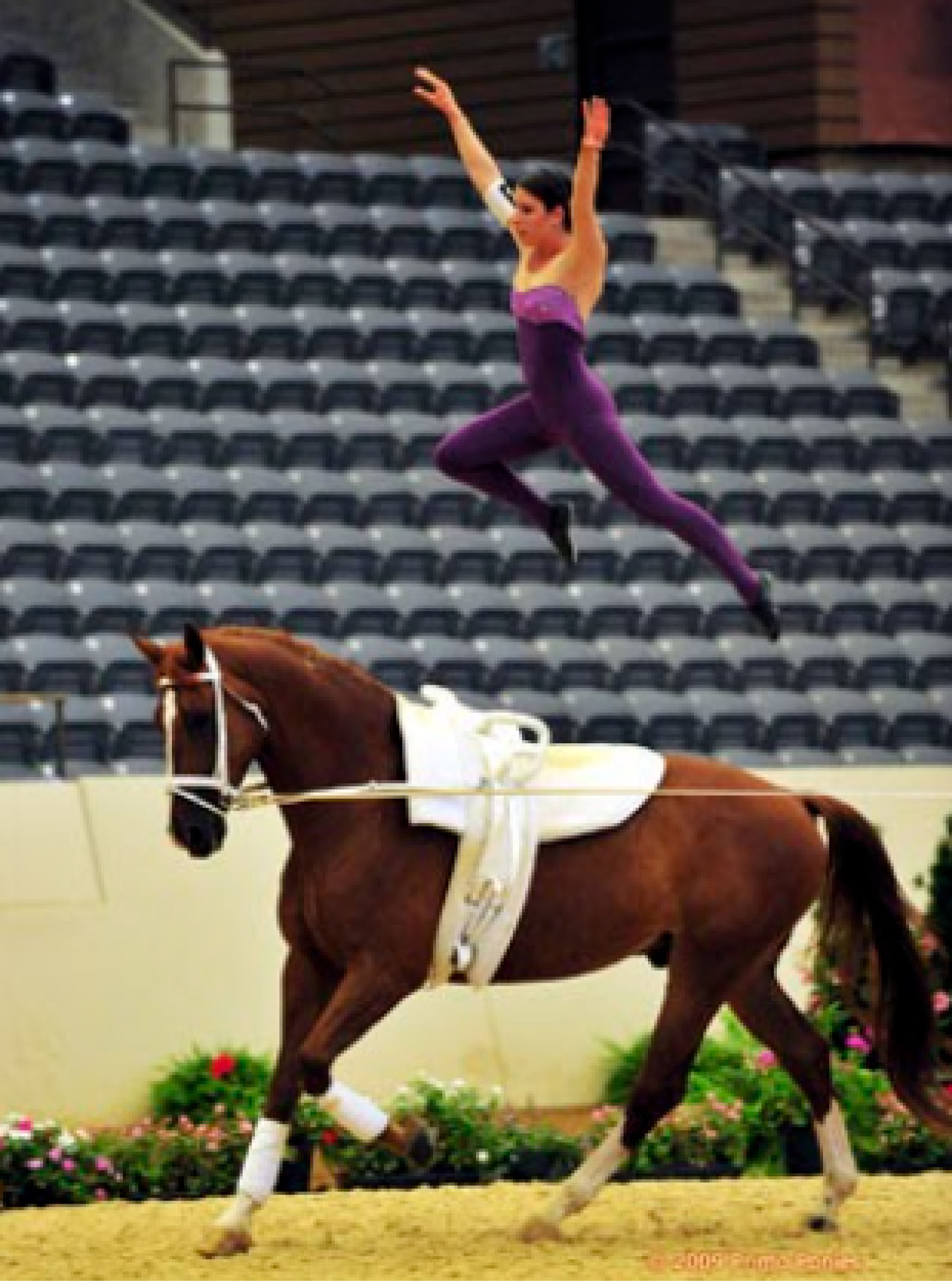 Image Source: Meghan Benjamin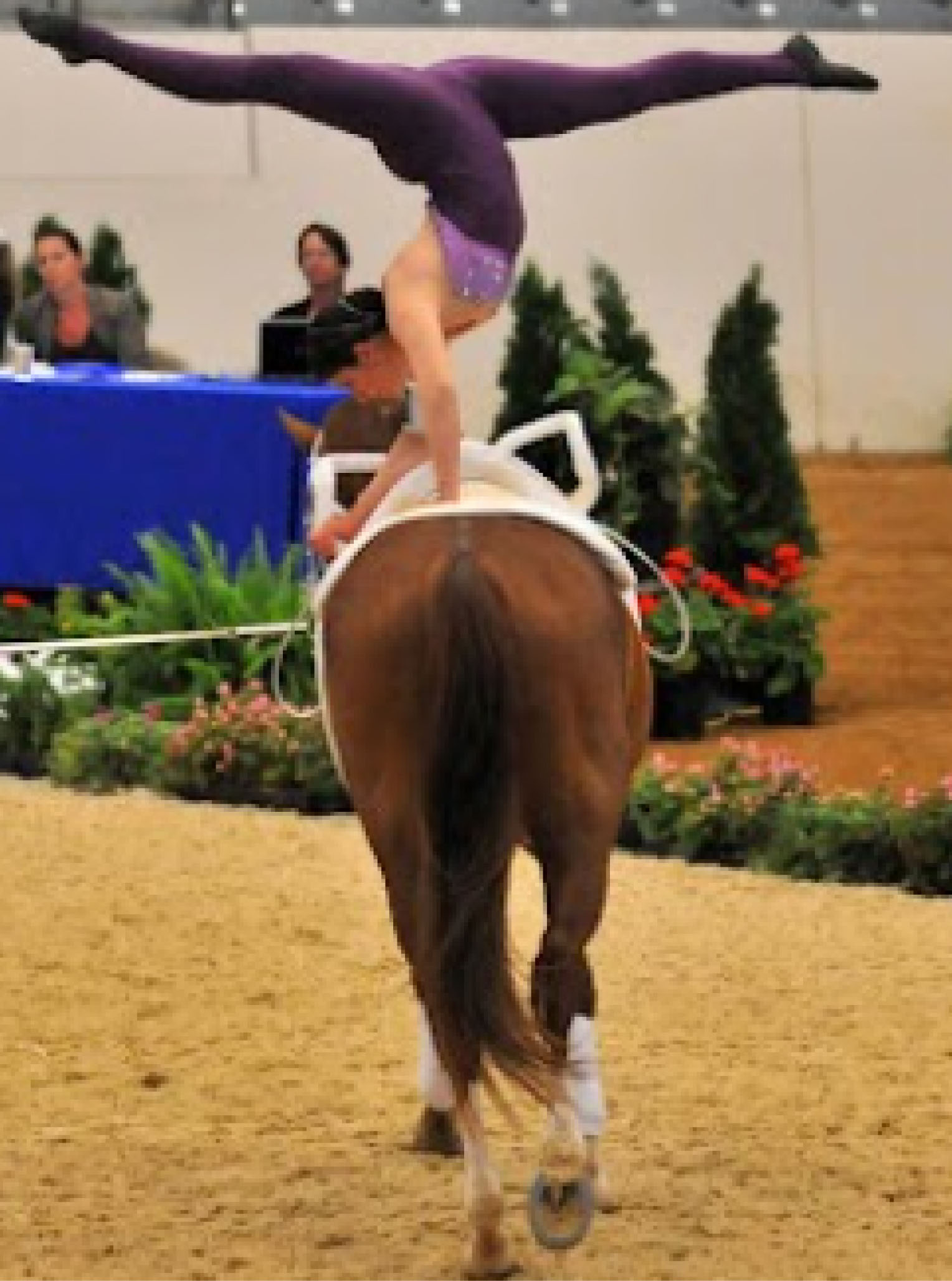 Image Source: Meghan Benjamin

Sarah Willock
Equestrian Vaulting has long enjoyed popularity in Europe, but that wasn't always the case in America, until a few
decades ago. It was during this time that Sarah Whillock, a young girl from the American Midwest, fell in love with
the sport. Though her parents had been apprehensive initially, their daughter's passion for the sport encouraged
them to actively involve themselves in understanding the sport.
Sarah had her first brush with the equine world at the age of nine, when she followed her elder sister into horse
riding lessons. Though Sarah loved spending time with the horses, she found only riding a horse, a tad boring. In an
interview with a local paper, when asked why she chose Equestrian vaulting, she points out that a combination of
horse-riding and gymnastics gave her the perfect platform to showcase both her talents (Source: Twin Cities).
To give fillip to her daughter's aspiration, Sarah's mother, Beth, purchased a second-hand surcingle to use, during
practice sessions. In vaulting, a surcingle combined with a pad is put on the horse instead of a saddle.
To further their love of the sport, both Sarah and Beth joined hands to start a club named The Northern Lakes
Vaulting. In 2015, it had as many as twenty members. The mother-daughter duo is now involved in coaching learners as
young as six years old.
In an interview to Horse Illustrated's Julia Arnold, they mention the reason for their increased interest, pointing
out that in recent years, riders from other sporting activities have also shown interest in taking up equestrian
vaulting owing to the multitude of benefits one can avail from practicing it, but most especially that it aids in
improving overall balancing skills.

Image source: Wilfrid chan

---