How To Choose The Right Couch Bed For Your Space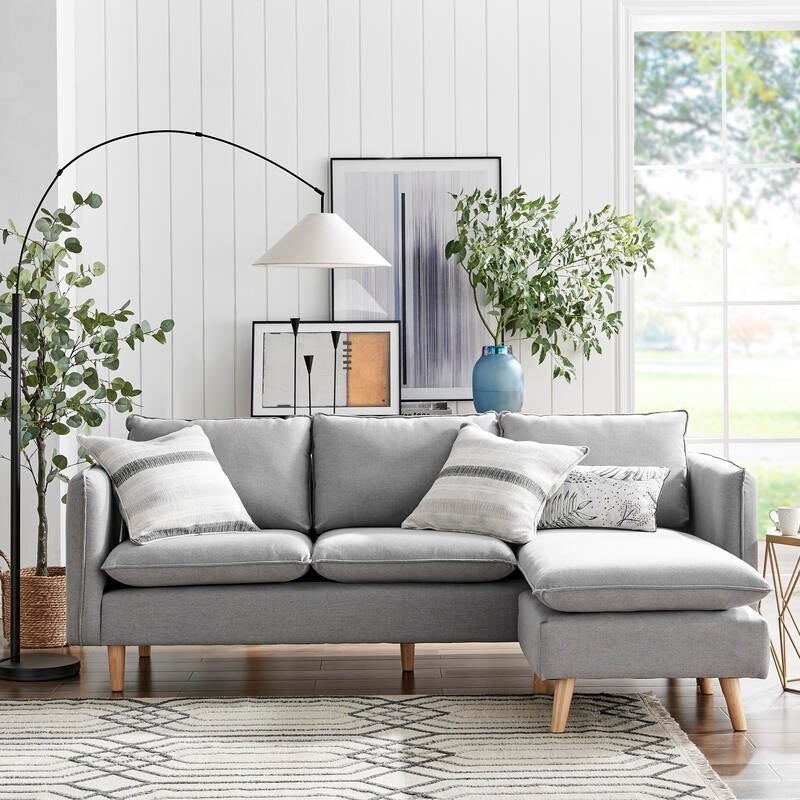 There's nothing quite like snuggling up on a new sofa. But buying one that will last takes careful consideration. Sofas come in different styles, colours and materials, which can make finding the right one difficult.
That's where our helpful guide comes in. We've broken down the most essential elements to consider before you buy a new couch for any space in your home.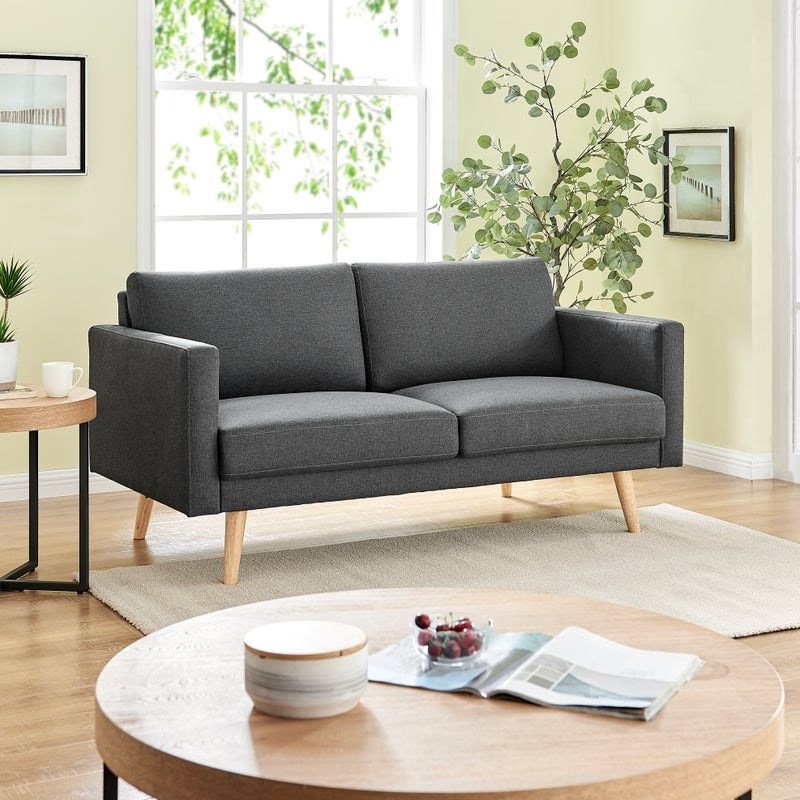 The Right Sofa for Your Lifestyle
The sofa you choose should work practically within your life. The questions below can help you find a couch that will suit your lifestyle.
How will you use the sofa?
Asking yourself how you plan to use your sofa will help you determine what material, colour, and size it should be.
If you plan to use your sofa in a high-traction area (e.g., your living room) or have children, it's essential to consider a sofa that's easy to maintain and big enough for the whole family. However, if the couch is for a spare bedroom, you could choose a more delicate, plush sofa.
How many people will sit on it?
Sofas range in size and seat capacity, so to find the right option, ask yourself, how many people will use it regularly?
For reference, a loveseat will seat two (maximum three) people, excellent for small families or couples. Whereas a 3-seater and sectional sofa would be better for large families or regular guests.
Do you have kids or pets?
Kids and pets can be messy and cause damage to furniture, so if you have children or animals, you should contemplate a durable material that is easy to clean and doesn't pick up lots of hair. Leather is ideal, but wool also works well.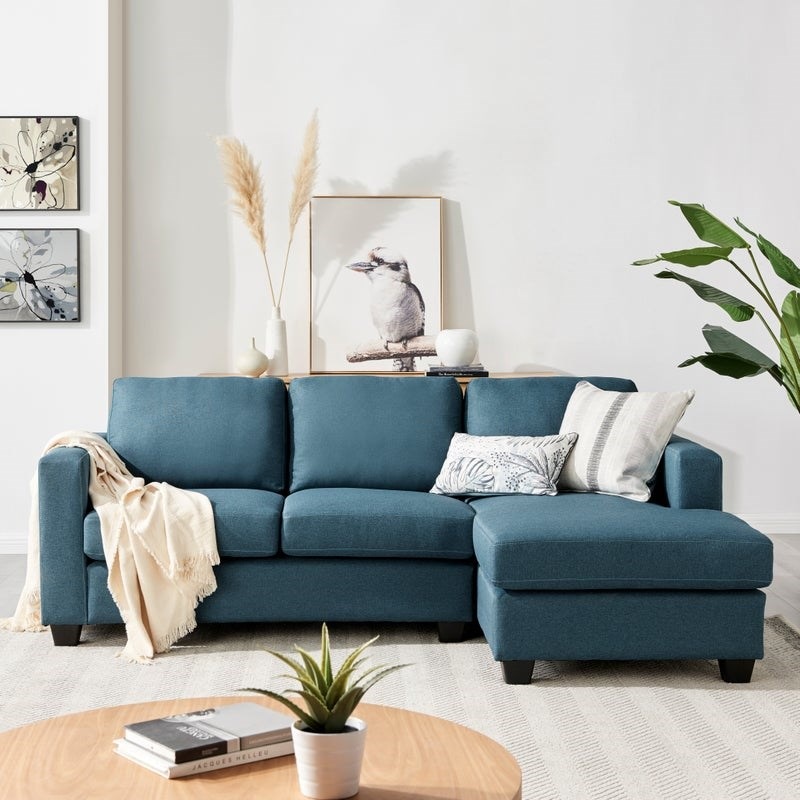 Types Of Sofas
Couches are popular furniture pieces that come in a wide variety of styles to suit different rooms. The most common types include:
Mid-century modern sofas
Suitable for apartments, family homes and the office.
The mid-century modern sofa is a classic choice. It's a 2-seater couch that sits low to the ground for functionality. It's also well-cushioned and incredibly soft.
If you like sleek and subtle curves, then this style of sofa is the choice for you. Furthermore, the mid-century modern sofa can withstand heavy use, making it an excellent choice for families, apartments, and offices.
Lawson sofas
Ideal for families.
Known for their simple silhouette and loose back pillows, Lawson sofas are a classic yet simple choice. With a three cushion-seat design, Lawson sofas offer luxurious comfort and are great for napping on or lounging in by the TV.
With their high-back and low arms, Lawson sofas offer excellent support and can be dressed up or down, depending on your unique style.
English roll arm sofas
Suitable for apartments or office spaces.
The English roll arm gets its name from its tight, low-roll arm design. The traditional sofa offers a more formal feel than the Lawson, ideal for apartments or office environments.
With deep seats, foam padding and an upholstered design, the English roll arm is made for comfort and can work seamlessly in any environment.
Ideal for apartments and offices.
A chaise lounge is a sleek, upholstered sofa bed made with comfortable foam padding for sitting and lying upon.
Because of its laid-back design, chaise sofas aren't the perfect option for families who wish to kick back together; however, they can add a statement look to apartments or offices.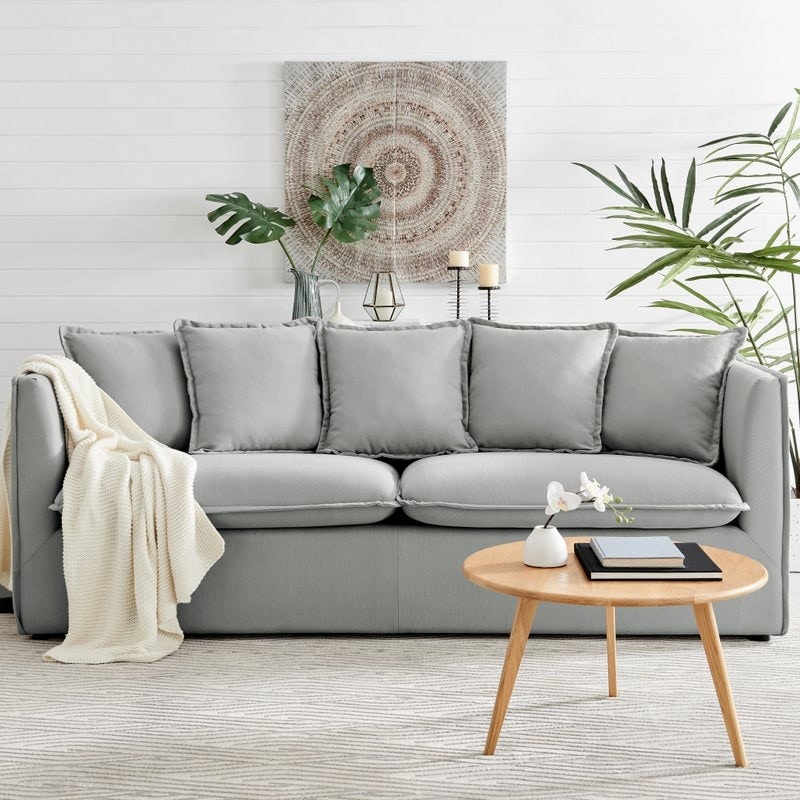 Fabrics & Materials
Sofas come in a wide variety of materials, but the most common options are wool, leather, upholstered and velvet.
Wool Sofas
Wool is a natural fabric that's very strong and less likely to pill than other sofa materials, making it a worthy, long-term sofa investment.
Wool is also easy to clean and vacuum, perfect for apartments and family homes that attract many spills and messes.
However, if you have pets, you may find your animal's hair gets stuck to the sofa bed easily.
Leather is an excellent sofa choice because it works with almost every style!
Well-made leather is very sturdy and has plush padding to support and comfort you for hours.
Although it's a more expensive fabric option, leather's durability and accessible cleaning functions make it long-lasting and perfect for families with little kids or pets.
Upholstered Sofas
Upholstered sofas are filled with padding for comfort. They're a stylish couch choice commonly made with silk, cotton, or synthetics for softness.
Upholstered sofas are just as classy as leather couches but more affordable. However, bear in mind, they are high maintenance.
Velvet Sofas
Velvet couches are superiorly comfy, and contrary to popular belief, they're very easy to maintain.
Velvet is a durable material that's exquisite to look at and very warm to snuggle upon. However, if you have pets that like to scratch or bite, the soft material might be best to avoid.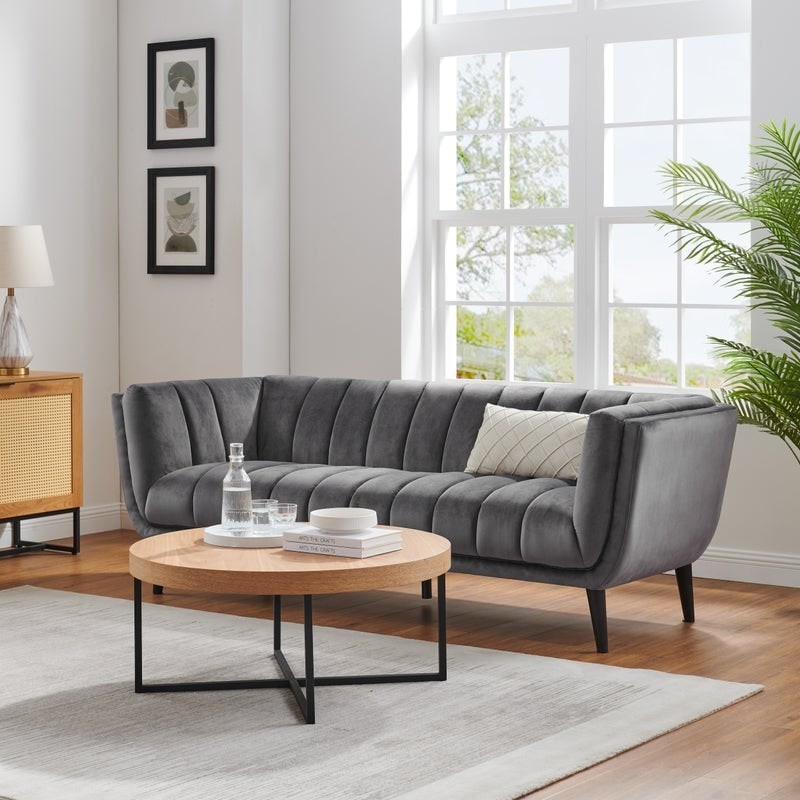 Consider the Sofa Frame
Like your own skeleton, the frame of a sofa keeps everything upright and sturdy. So, it's critical the couch you choose has a structure that's made from a durable material such as:
1. Hardwood: Hardwood is exceptionally sturdy, durable, and perfect for long-lasting support.
2. Metal: Metal is another very sturdy material that can withstand heavy use. It's also very affordable too.
An excellent way to tell if you're getting a worthwhile frame in your sofa is to check the guarantee attached to it. The more years it offers under warranty, the more you can rely on the manufacturer and their frame's stability.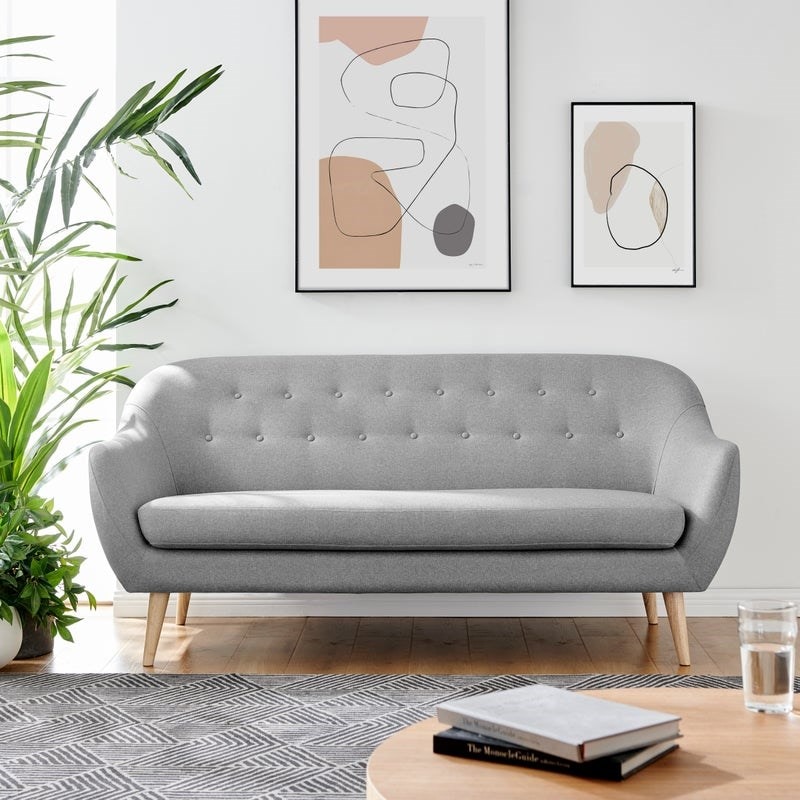 Measurements
Measuring out the space required for your sofa will help you ensure it fits in your space right.
Find out your sofa measurements. Take down the sofa measurements you've chosen (including width, arm height, depth, and back height). Then mark these measurements out in the space you plan to place your sofa.
Pro-tip: Always measure twice for accuracy.
Measure your entryways. It's also critical you measure the entryways of the room to ensure there's enough space to move around the sofa.
Make sure the sofa fits. Once you've marked out the size of the couch, stand back and
analyse the area to see if it looks visually appealing and appropriate to you.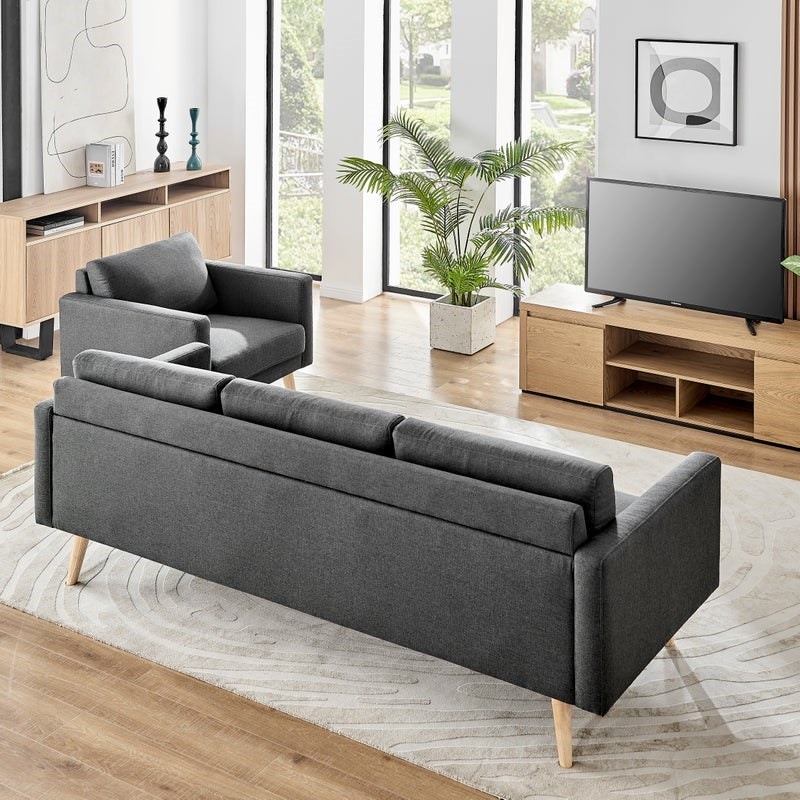 Choose the Right Sofa Colour
It's essential you choose the right colour for your sofa to avoid a clash of furniture in your home. Your chosen sofa should complement your existing style and the colours in the room. When in doubt, go for a neutral shade. A beige, grey, cream, black, or white couch can work in many different spaces.
Tip: Avoid going for a sofa colour that's currently on-trend. Trends change quickly and regularly, so stick to timeless shades or patterns that won't go out of style.
With the above tips, finding the right sofa for your living space should be a breeze!
Be sure to show us what your new sofa looks like in your living room and if you have any questions, let us know in the comments below.